Chelsea's veteran midfielder Frank Lampard took an IQ test in 2009 that put him in the bracket of Geniuses.
Lampard recorded an amazing score of 150 which is not far behind well known wizard, Albert Einstein who had a score of 160.
Every Chelsea player took the test at that time, the owner of the company that was in charge of the test was stunned by Frank's unbelievable score, "Frank Lampard scored one of the highest sets of marks ever recorded by the company doing the tests, And higher than me."
We have not heard of many confirmed geniuses in football, Chelsea and their fans can be proud of Frank Lampard. If you didn't know, you now do! Frank Lampard is a genius!!!
Jose Mourinho is back! Yes, he's back. Chelsea fans are still jubilant "The Special One" now "The Happy One" has returned to Chelsea. It now seems like he never evn left, Feels good to have him back.
As expected, rival English Premier League fans are not excited about Mourinho's return to England, they have not hidden their ill-feelings towards the world class manager.
Mourinho has something to prove at Chelsea despite the fact he's already known as one of the best we have ever seen. His fall out with Real Madrid would have multiplied his passion to win. He will be looking to make his Chelsea team unbeatable and protect his Stamford Bridge unbeaten status.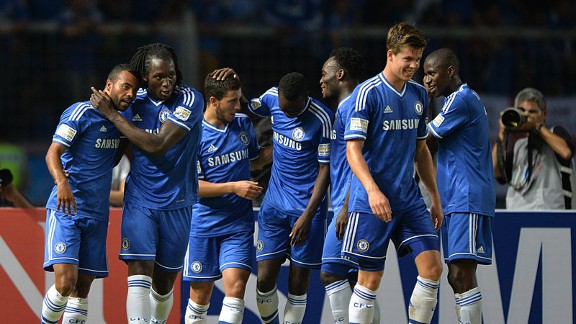 The Blues performed well during the pre-season, winning six of their seven games. They convincingly beat Italian giants, AC Milan and Inter Milan. And although they fell to a Cristiano Ronaldo led Real Madrid side, the Blues still finished strongly as they earned a hard-fought victory against Roma on Saturday night. Against Roma the blues displayed the sort of spirit every "real" team we have seen Jose Mourinho manage, the spirit to never lose or even draw but win, summarily, the spirit to never give up. They fought back and won the game at death, it was just a preseason game but the players played in the second-half like a win actually meant more than it did.
Chelsea have done some business already this summer. The team was strong last season but squad depth was always a problem.
Patrick van Aanholt (Loan)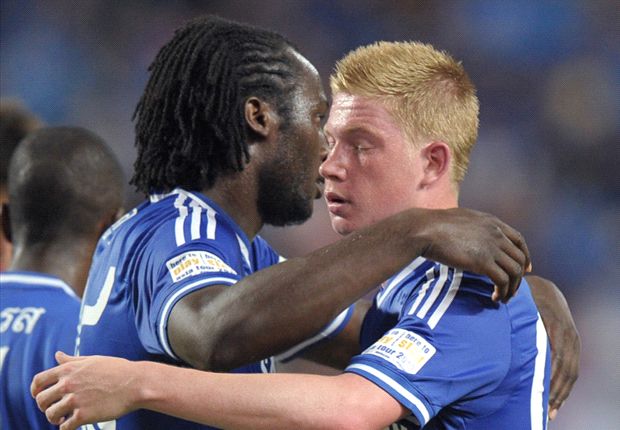 Romelu Lukaku and Kevin de Bruyne were excellent on loan to West Brom and Werder Bremen respectively last season. Mourinho made the decision to keep both of them as he believes they have something to offer the team now. Both of them will be looking to repay the manager's faith in them.
Michael Essien too has returned to Chelsea too after having a solid last season with Jose Mourinho at Real Madrid. Everyone knows what Michael Essien is capable of but there is little doubt about him been at his best. Essien will want to continue to give Mourinho more than enough reason to keep him in the starting eleven.
Young defender Tomas Kalas too will be part of the squad this season according to Mourinho after spending few years on loan.
Chelsea isn't surely done with transfers with the club in hot pursuit of England International striker, Wayne Rooney who is currently a Manchester United player. Jose Mourinho said that Chelsea will continue to try to snatch him away until the window closes. The player is rumoured to be bent on joining the West London club this summer.
The manager has also dismissed any potential departures, said he
won't be selling any of his players. Squad depth is not a problem for Chelsea anymore.
The 25-year-old little Spaniard arrived at Stamford Bridge during the summer 2011 from Valencia. He made immediate impact at the club, was the club's player of the year in his first season and won the accolade again for his last season's exploits.
The Chelsea play-maker has continued to go from strength to strength. Chelsea missed him against Real Madrid as there's no one as good as him at creating chances in the team. Juan Mata has unbelievable vision and his deliveries from set pieces are excellent.
When Mata is on the pitch and on his day Chelsea are certainly a much better team. Jose Mourinho and the fans will be looking forward to his imminent improvement on last season's outstanding performance.
Eden Hazard
Some say he can't be stopped, we all know that he's hard to stop for the best defenders. Eden Hazard goes past you, you let him go or get booked.
Chelsea's 22-year-old Belgian arrived from Lille during last summer for a reported £32million after Chelsea beat Premier League rivals, Manchester United and Manchester City to his signature. He took the Premier League by storm and was MOTM in the team's first four league matches.
Hazard seemed to have fallen asleep at a time but he came back to life after his infamous clash with that ball boy. His combination with Mata and Oscar ripped defences apart. Hazard had a great first season and with Mourinho back at the club, he has got himself the best tutor around. Mourinho has vowed to help turn him into an even better player. Even non-Chelsea fans will be watching out for this man.
Marco Van Ginkel
At just twenty years of age, Dutch midfielder Marco van Ginkel was signed from Vitesse this summer. Before Chelsea's first Pre-season match a friend of mine asked me who Chelsea's latest signing was and I told him van Ginkel. He just laughed and asked when Chelsea would buy a star player. I smiled and told him to wait and see during the season if they already signed a star player in him (van Ginkel).
I've been greatly pleased with what I've seen from the youngster in preseason. He described himself as a box to box midfielder but Mourinho has deployed him as the holding midfielder in the pivot. He still has to improve but at the age he is, his reading of the game is excellent, he works hard defensively and contributes to the attack well too.
Remember his name, you might be saying his
name all season. Marco van Ginkel is one to watch this season and I believe he will surprise not just every Chelsea fan but every football fan.
Verdict: Barclays Premier League Winners
You might not like Jose Mourinho but no one can deny that he's an established winner. He has won a lot since he started his managerial career, in different leagues for different teams.
With him back at the bridge, expectations are high. How they start the season will be pivotal, but the key advantage Mourinho will have over other managers is the class he is, he is certainly in a class of his own.
I believe at the end of the season, rivals will feel right to have been shivering on hearing he's back and the fans will be feel vindicated to have celebrated Jose Mourinho's return to the club. Chelsea fans, expect success at all fronts! Remember you read that here...


Jose Mourinho said yesterday that he wants to be like Arsenal long time manager, Arsene Wenger and stay at Chelsea for 17 years.



"Our last conversation was that I want to be here 17 years,he has to teach me how. I respect him a lot and I have the feeling that he is the same in relation to me."
-Jose Mourinho

Jose Mourinho and Arsene Wenger were nothing close to being friends during the Chelsea Manager's first reign at the club. Jose Mourinho digged at Wenger 2010, asking him to explain to the Arsenal supporters how he can't win a single, little trophy since 2005.



"He's a nice guy,I respect him a lot and I will show my respect always. I wouldn't bet for one single problem between us. I have had a chance to meet him much, much better when I left England. I started meeting him at the Euros, the World Cup. We had dinner.When you are not in the same league and when you are not playing against each other, it is easier to know people, it is easier to go deeper. I enjoyed speaking with him about football. He is a person with a big culture, very open to give his opinion to things."
-Jose Mourinho




Looks like Mourinho is a very bad student, terrible at learning. He has refused to learn everything Teacher Wenger will be willing to teach him.

When asked if he could go eight years without a trophy...

"No, because of my mentality. I would feel strange. But you can do very good work for a club without winning lots of trophies, you can. Memories in football are normally short, there is no long-term memory. People many times forget what people have done. I don't think he's affected by that. He's a big, experienced man, he has self-esteem, he knows what he did, he knows what he is doing.To have the respect like he has from his board is fundamental and it's not because of his nice face. It's because of the work he does and also because of the respect people have for him. So, for sure, he is happy to be there. As you know, he had all these chances to leave, all these good, important clubs interested in him, so when he refuses and he wants to stay at Arsenal it's because he loves it there. It's because he has expectations for the future."
-Jose Mourinho

Jose Mourinho surely picks what he learns, he doesn't want to do a "Wenger" by going eight years without winning a trophy but he wants to do a "Wenger" and stay at Chelsea for 17 years. Clever student, Mou.

Watch out Arsene, Jose can be a very dangerous student, willing and able to beat his teacher.
The No 10 position is a very important position for every team that plays football, it's highly coveted too by midfielders. Different teams use their No 10 position in different ways depending on what the manager wants.
Jose Mourinho has always used a creative, intelligent and hardworking player in this position at every club he has been. Deco at FC Porto, Frank Lampard during his first reign at Chelsea, Westley Sneijder at Inter Milan and Mesut Ozil at Real Madrid. I believe Jose Mourinho would have enjoyed working with Lampard the most, especially for the number of goals he got from Lampard.
Jose Mourinho has already suggested that 4-2-3-1 formation will be his favourite formation, there's always tactical flexibility with Mourinho and we will surely be seeing other formations for special matches. This article will focus majorly on the 4-2-3-1 formation.
"We will play 4-2-3-1 in the first game, my favourite system, though sometimes I change the triangle and play with one in front of defenders and two players up. Other times I play with double midfielders and a No10".
-Jose Mourinho (The Guardian)
He mentioned names of players who are going to be fighting it out for the No10 role.
"No10: De Bruyne likes it, Oscar likes it, Mata likes it, Eden Hazard likes it. The 4-2-3-1 is a natural system for all these players to play".
-Jose Mourinho (The Guardian)
Jose Mourinho was talking about Juan Mata and his plans for him yesterday.
"Of course he fits into my plans, I have my idea about him, about where he produces better and where he has more difficulty. We will try to help him perform better in those situations. I've always liked a right-sided player to be left-footed. I started with Robben and Duff, then Pandev at Inter and Di Maria and Ozil. Many clubs do it. It's more than a tendency."
That leaves us with three choices for the No10, De Bruyne, Oscar and Eden Hazard.
"I like wingers coming in on the inside for the penetrative movement, for the pass, for the shot. And Juan is the only player we have on the right. On the left, we have Hazard, Victor Moses, Kevin De Bruyne and Andre Schurrle".
-Jose Mourinho (The Guardian)
Eden Hazard's name coming first among the names on the left is far from coincidental, he owns that spot. Hazard is going to feature most where he has been playing for Chelsea, on the left.
We now have two names left in the No10 contention, Oscar and Kevin De Bruyne. Jose mentioned the two of them first anyway. It's good to see that Mourinho isn't considering Oscar on any of the wings.
Oscar Dos Santos is a very talented footballer, intelligent and creative. He is a good passer of the ball, can play killer passes from the No10 position where he regularly plays for the Brazil national team. Oscar scores beautiful goals and can hit the ball with both feet with a strange technique. His 12 goals for Chelsea is last season is a good number for first season. When Chelsea fans hear his name they remember that great goal against Buffon the UCL last season. Like every player Oscar can have his off-day too but his major weakness is his lack of physicality, he can be occasionally bullied off the ball. Jose Mourinho's training sessions will surely help with Oscar's physicality. Kevin De Bruyne spent last season on loan at Werder Bremen where he featured in many positions. He was their best player and one of the best in the whole German Bundesliga and made the team of the season. Kevin De Bruyne is a good passer of the ball (he may not be better than Oscar), his deliveries are excellent from set-pieces and he's probably the best crosser of the ball in the team. De Bruyne has great work rate (probably greater than Oscar). Those who have been watching De Bruyne since his time at Genk will know he takes pleasure in scoring screamers, we saw the excellent goal he scored on the Asia tour. He was brilliant for Chelsea during the Asia tour, fans were scared when he got injured and everyone is pleased he will be back. He scored 10 goals for Bremen last season. De Bruyne is a complete player, no physicality problems. He may not be able to do what others can do well as well as them both he can at least do all. I believe form and opposition will determine who takes this No10 spot between Oscar and De Bruyne as both are quality players. Chelsea are in an enviable position having two young, talented players battling for this position.
Both Kevin De Bruyne and Oscar dos Santos have the potential to be great. Competition will only help to bring out the best from both of them and that can only be good for the club.
Chelsea fans who were scared Juan Mata could be sold can now start to feel a bit silly but relieved at the same time. Juan Mata will be one of the most important Chelsea players for years to come,no doubt!

Juan Mata is one of the best players in Europe at the moment. He was undoubtedly one of the best performers in Europe last season. Juan Mata's dazzling, consistent and productive displays for Chelsea was rewarded with his inclusion in the Professional Footballers' Association's team of the year, he was also Chelsea's player of the year for the second consecutive season and won Chelsea's players' player of the year award too.

Many fans argued that Mata deserved more recognition for his consistency in a season where Tottenham's Gareth Bale scooped all major awards in England despite being quiet for most part of the start of the season before springing to life around February.

Juan Mata has again been overlooked for the European Player of The Year award for 2013. The names on the nominees' list for the European Player of the Year award are Lionel Messi, Cristiano Ronaldo, Gareth Bale, Robin Van Persie, Zlatan Ibrahimovic, Franck Ribery, Robert Lewandowski, Bastian Schweinsteiger, Arjen Robben and Thomas Muller.

It's difficult to argue that any of the players nominated for the European best footballer award shouldn't be on the list as they were all fantastic last season. Juan Mata wasn't even on the 26-man initial list (Chelsea defender Branislav Ivanovic made the list).

The biggest individual accolade any footballer can win, The FIFA Ballon d'Or is still up for grabs. Lionel Messi as usual is considered favourite to win the highly coveted award and players like Cristiano Ronaldo and Arjen Robben have been tipped by the media too. Nobody has mentioned Chelsea's little magician, Juan Mata.


An argument like this has to be based on statistics else people dismiss it completely. Juan Mata was the best playmaker in the whole of Europe last season with a very impressive 28 assists for Chelsea, Mesut Ozil and Eden Hazard both registered 20 assists their clubs.

People may argue that Juan Mata registered more assists than others due to the insane number of matches he played in for Chelsea. Playing many matches also causes fatigue to the player therefore Juan Mata's consistency despite playing that many games.

As you can see from the statistics, Juan Mata certainly holds his own against the best players being considered. The statistics testifies to the outstanding season Juan Mata had. Juan Mata scored 20 goals for Chelsea last season in all competitions and helped Chelsea win the Europa League and finish third position in the Barclays Premier League. Most strikers will be proud of 20 goals in a single season so Juan Mata can be even more proud especially when an highly-rated player like Andres Iniesta managed just 6 goals.

Being the best playmaker in Europe is good enough reason to be a contender for the World Best Footballer award, scoring an incredible 20 goals from just 49 attempts on goal with that is a better reason. We all know Lionel Messi and Cristiano Ronaldo... Juan Mata is definitely up there too with the world's best footballers.


Cheers, my friend.
The article is online now.
Looking forward to reading your next one.

Kind regards
Paul

Sent from my iPad

On 10 Jul 2013, at 01:48, diamondferans@yahoo.com wrote:

> Reports suggest that Barcelona are still trying to sign Chelsea's Brazillian defender, David Luiz to succeed their Captain Carles Puyol. A £30 million bid was quoted in some reports.
>
> David Luiz was Chelsea's best Centre-back last season and was ever present. He also featured in the midfield where he was pretty decent. The English media made Luiz look like a bad defender to most people, comments like "Not the Mourinho type of player". David Luiz is a talented footballer who every manager in the world including the best, Jose Mourinho would love to manage. Everybody saw his quality at the just-completed FIFA Confederations Cup at Brazil.
>
> Abrahimovic's Chelsea are not a selling club, they don't sell players in their prime especially when still in use. How many times do teams like Barcelona need to be told this? Jose Mourinho revealed that when he tried signing Samuel Eto'o from Barcelona while at Chelsea, Barcelona had insisted they are no selling club then we ended up getting Shevchenko. Its hard to see Jose Mourinho doing them any favours.
>
> Surely, Jose Mourinho is a smart man and he must know that David Luiz has been helping Chelsea's Brazil players settle down and enjoy life in London. Selling David Luiz will definitely affect the likes of Oscar, Lucas Piazon and new boy, James Wallace. I strongly believe Oscar's performance on the pitch has a lot to do with Luiz most of the time.
>
> Barcelona are simply wasting their time thinking Chelsea are Arsenal. Chelsea is a big club! The players are well paid too. The earlier Barcelona realize Luiz is a no go, the better for them. Barcelona will probably have to cough up around £50 million before Chelsea management and fans can consider letting Luiz go.
>
> NOTE: Barcelona haven't completed payments for Neymar, Alba, Sanchez. The club will probably fold up if they end up having Luiz.
> Sent from my BlackBerry® wireless handheld from Glo Mobile.