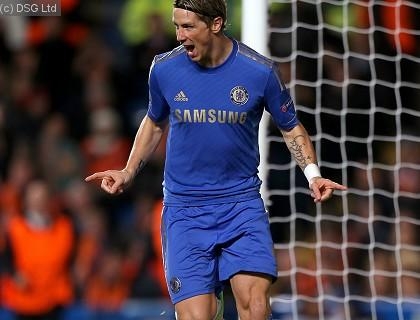 Torres' miserable debut against his former club following his ?50million move from Anfield set the tone for his nightmare start to life at Stamford Bridge. And the Reds have come back to haunt him three more times since, winning every one of their clashes with Chelsea bar last season's FA Cup final.
Chelsea surrendered top spot in the Premier League to Manchester United last weekend and they could find themselves four points adrift in third place by the time they next take to the field on Sunday. But Torres said: "It's a big game and now we are in second position in the table."
He added: "We want to be at the top as soon as we can, so the first step is winning against Liverpool at Stamford Bridge."
The striker, who ended his latest scoring drought in Wednesday night's last-gasp Champions League win over Shakhtar Donetsk, will be up against former Liverpool team-mate and fellow Spain star Jose Reina.
Revealing the pair had already discussed Sunday's game, Torres added: "They are really looking forward to the game because they need points, they need to win these kinds of big games to get confidence. But we also need them so hopefully the three points can stay at Stamford Bridge."
Few would bet against that if Oscar translates his Champions League form into the Premier League. The 21-year-old scored his fourth goal in as many European outings on Wednesday but has yet to find the net domestically.
He said: "I feel as though I've settled well in the league as well, even if all of my goals so far have come in the Champions League. We're playing well in both competitions. The most important thing is that I'm adapting myself to Chelsea.
"I have to keep that process going, keep getting used to my team-mates and, in the Champions League and the Premier League, I can do better. It's a very different sort of football to Brazil in particular, and it does take some getting used to.
"These are my first experiences in English football so, naturally, there is a process of adaptation as I get used to the different environment, but I'm pleased with everything so far. And, every game I play, I get more used to it, so I know I will keep getting better."
Source: PA
Source: PA