Between the ages of 30 and 40, you reach a strange crossroads as a footballer, and one which can have strange effects - you might become a fringe player in a team where you were once the main man, you might cash in and move to a club somewhere sunnier, you might go from one of the most consummate professionals in Premier League history to commandeering a taxi in a squad bonding trip to Barcelona.
In short, your twilight years as a footballer are a time to get truly weird after years of 9pm bedtimes and whole wheat pasta for breakfast, lunch and dinner. And one of the most efficient ways to do this is by psyching everyone with some kind of bizarre late-career move which is sure to be pub quiz fodder for years to come.
With the news that Robinho is returning to Santos (in what is being fantastically marketed as 'The Last Pedal', with pedal meaning step-over in Portuguese), and accepting a £200 a month contract to do so, there's no better time to look at when footballers decided to go truly out there with their retirement plan.
Here is 90min's list of the most bizarre end of career choices from some of the game's greats...
---
1. Hristo Stoichkov (Al-Nassr)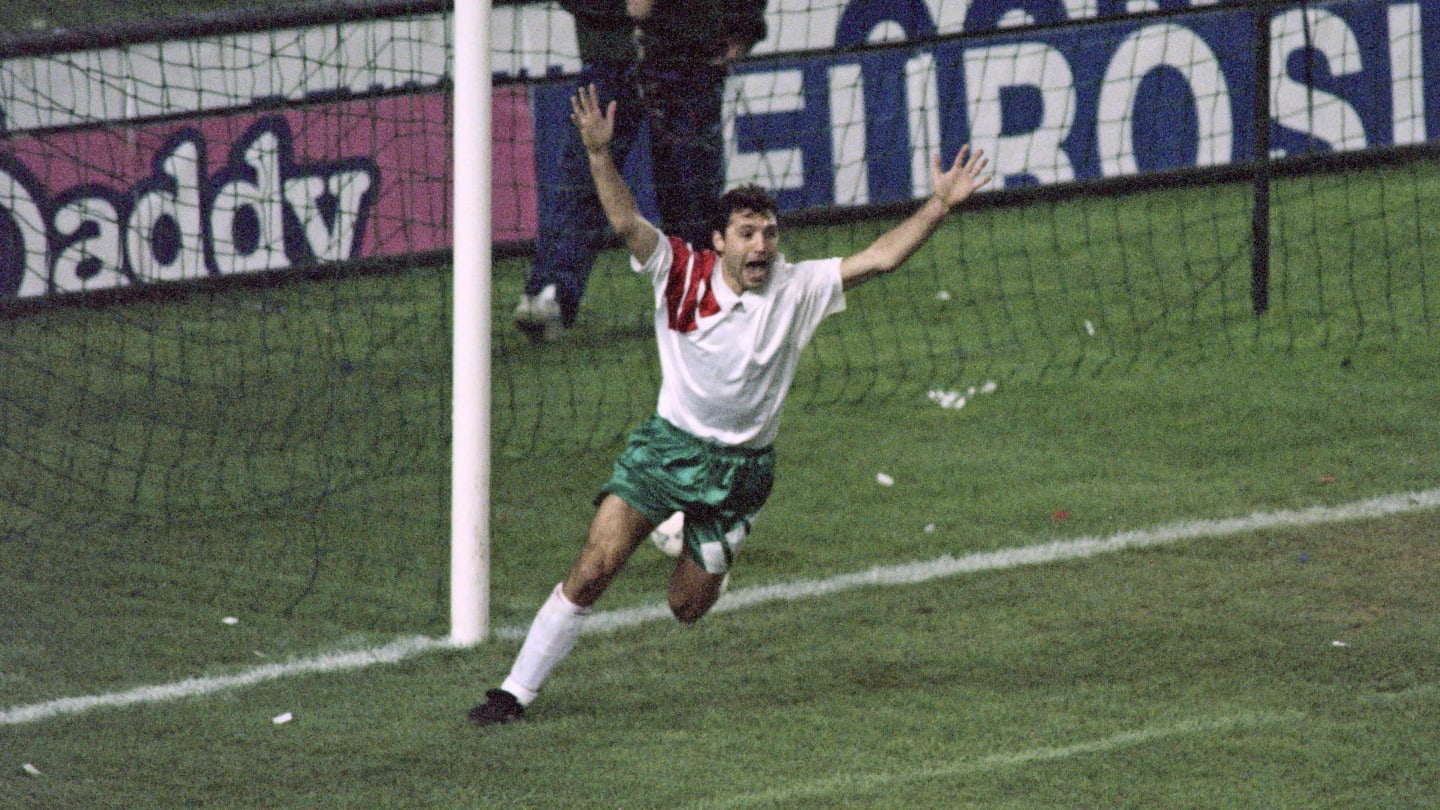 If you've ever showed up to 7-a-side and got absolutely destroyed by a ringer who definitely didn't play for your opponents last time round, the story of Hristo Stoichkov's two games for Al-Nassr in 1998 will resonate with something deep in your soul.

In what may have been the two most lucrative days' graft in history, the Bulgarian football legend was paid an astronomical $200,000 to appear in the semi-final and final of the Saudi Arabian club's Asian Cup Winners' Cup campaign.

Having won the Ballon d'Or just four years prior to his little business trip, Stoichkov unsurprisingly ripped apart Turkmenistan's Köpetdag, before scoring the winner in the final against Suwon Bluewings, who must have felt just a little bit miffed.
---
2. Ruud Gullit (Chelsea) The good news: A former Ballon d'Or-winning attacker is very keen to join your ambitious sporting project.

The more questionable news: At the age of 32, he has decided he would like to play as a sweeper.

Glenn Hoddle was no doubt slightly bemused when Ruud Gullit rocked up at Stamford Bridge and stuck himself at the base of the defence, and according to Michael Cox in his book 'The Mixer', so too were Gullit's colleagues when the two-time Champions League winner started doing strange things like 'not smashing the ball into the stands under the slightest bit of pressure'.

Though Hoddle eventually decided Gullit was maybe a little too forward-thinking and moved him into midfield, the Dutchman had the last laugh, able to play wherever he wanted after being installed as player-manager once Hoddle departed.
---
3. Rivaldo (Kabuscorp) After putting the back lines of Uzbekistan to the sword during a sizzling spell with Bunyodkor where, as well as managing a respectable 44 goals in 77 games, he also had to eventually sue the club for unpaid wages, things looked to be winding down for Rivaldo.

Indeed, Angolan football fans seemed positively nonplussed by his arrival at Kabuscorp in 2012, with local sports commentator Jose Cunha explaining that "people think he's past his prime and wonder what contribution he can make," via BBC Sport.

Rivaldo showed them, blitzing home a blistering 11 goals for the Luanda-based club at the ripe old age of 40. You come at the king, you'd best not miss!
---
4. Rio Ferdinand (QPR) As one of the greatest defenders in history, as you start to get old and lose a yard or three, you've got to think about protecting your legacy. If you're going to insist on staying at the top level, make sure you don't put yourself into situations where you're going to be dangerously exposed against nippy attackers.

Basically, don't do what Rio Ferdinand did in 2014 and join a QPR side where Harry Redknapp and Glenn Hoddle were trying to introduce a strange back five.

While it would take a lot to even leave a dent in the reputation of a magnificent defender like Ferdinand, QPR did their very best by making him play next to an equally-aged Richard Dunne, and the experiment quietly ended after a 4-0 loss to Spurs in Rangers' second game of the season.
---
5. Roberto Carlos (Anzhi Makhachkala) You can keep your IFAB conferences and your drinks breaks - the one rule change football really needs is demanding a minimum of two player-managers in the top-flight at any given time.

The thought of Roberto Carlos sending some subs to warm up before banging in a 35-yard gravity-defying free kick at least became a reality in 2012, when he became Guus Hiddink's assistant manager at Anzhi Makhachkala (and that wouldn't even have been in the top ten most bizarre things to have happened at the Dagestan-based club at that time).

Carlos and Hiddink both resigned in stormy circumstances, with the Brazilian cheerfully predicting that Anzhi would become a total joke within two years if they didn't get their act together.

He was more or less bang on, as the free-spending club were relegated to Russia's second tier in 2014.
---
6. Kyle Lafferty (Reggina)
Kyle Lafferty's reputation in the UK is very different to that on the continent. Former Palermo chairman Maurizio Zamparini called the striker a 'womaniser' and an 'Irishman without rules', whereas on these shores he's just another journeyman striker.

Yet you can keep the boy out of southern Italy, but you can't keep southern Italy out of the boy, and despite being accused of skipping training sessions to party in Milan (not exactly a short commute), the former Palermo cult hero is back on his old stomping ground with Serie B club Reggina.

The former Burnley man ending up as one of Italy's most beloved adopted sons has to be one of football's most touching subplots of the last decade.
---
7. Nolberto Solano (Hartlepool)
Similarly to Lafferty, you wouldn't have put much money on Solano forming a deep and lasting love affair with the north-east of England after arriving at Newcastle from Boca Juniors in 1998.

With his playing career winding down, the Toon Army icon went back to where he was loved as Mick Wadsworth coaxed him to League One Hartlepool, allowing him to coach Newcastle's Under-11s, local amateur team Newcastle Benfield, and even get in plenty of gigs with his salsa band - the Geordie Latinos.

As for how he actually played, Wadsworth's replacement Neale Cooper put it bluntly - "At this time I need players who will really graft, that's not Nobby's game."
---
8. Eusébio (Buffalo Stallions)
The MISL, or Major Indoor Soccer League, is a pretty fascinating Wikipedia deep dive - despite the USA's ambiguous relationship with soccer, taking the sport and making it weirder somehow worked, and the league pulled in thousands of fans to various hockey stadiums and auditoriums every week.

It's also a league where one of the greatest players in football history ended up retiring, with Eusébio taking his considerable talents (and by-then dodgy knees) to Buffalo, New York.

As a result of his fairly significant injury history, he only played five games, but his teammate Jim Sinclair remembers him fondly as "the cheerleader of the team, always encouraging people, never negative, never criticising."
---
9. Edgar Davids (Barnet) The charms of north London have lured in more than a few world-class Dutch internationals in their time, with Rafael van der Vaart fantastically sharing his memories of regularly attending local Barnet nightspot The Live Room with Robbie Keane after a big win.

Edgar Davids was another man susceptible to that part of the world, and it was all-too-convenient for the legendary all-action midfielder to sign up at Barnet. As player-manager too, you say? Why not, what could possibly go wrong?

As it turns out, quite a bit, as Davids, who had taken the bold decision to wear the number one shirt as an outfielder, racked up an impressive three red cards in eight games during the 2013/14 season.

He also wasn't keen on going to away games where he had to stay overnight, which you'd understandably think is a bit of an issue for your gaffer.

When Davids resigned in 2014, there was not an awful lot of surprise - but at least you couldn't call his stint in charge boring.
---
10. Petr Čech (Guildford Pheonix)
This one might be cheating as this late-career move actually saw Petr Čech leave football for another sport, but the thought of him playing ice hockey in Surrey is too surreal to exclude from this list.

Although he sadly did not become the next Wayne Gretzky, instead going from Arsenal's second-choice keeper to Guildford Phoenix's third-choice, he achieved a 'childhood dream' through executing a match-winning penalty save against Swindon Wildcats on his debut.
Source :
90min