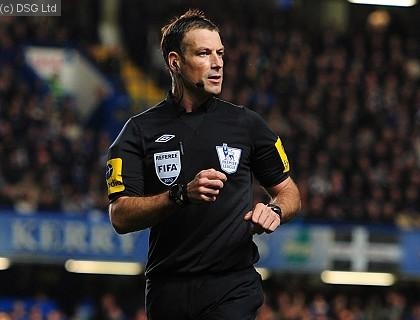 Former referee Graham Poll believes the only way Mark Clattenburg could emerge from the current controversy around him 'untarnished' would be if Chelsea were to say that their accusation that he used 'inappropriate language' towards John Obi Mikel was mistaken.
Chelsea have filed a formal complaint to the Football Association over a remark they claim Clattenburg made to Mikel during last Sunday's Barclays Premier League match against Manchester United which it is understood Chelsea interpreted to have been racist in nature. Clattenburg is understood to strenuously deny any wrongdoing and his fellow matchday officials are expected to back him.
"The only way that anything positive could come of this for Mark would be if Chelsea Football Club accepted that they were mistaken and then he could come out untarnished," Poll told BBC Radio Five Live's Sportsweek programme.
"Even if the FA said 'case not proven', it's got to have a detrimental effect on his career."
Former referee George Courtney believes that there is "absolutely" no way that Clattenburg did what he has been accused of.
"I don't believe it for one moment, absolutely not," Courtney told Sportsweek. "I've known this guy for 20 years, I've watched him progress through to the Football League and the Premier League. He's an excellent referee."
He added: "I've got no idea what happened after the game but I'd be very, very surprised and staggered if there was any kind of racist slur."
Poll called on the game's governing bodies to offer practical support to Clattenburg.
"Something should be done so referees are not left isolated," he said. "(Colleagues) can support you but they can't help, they can't take action or make a difference."
He added: "The minimum that should happen is that (conversations are) taped. If an allegation comes up, we replay the transcript in private so the FA can go 'it's wrong, it's sorted, be quiet'."
Source: PA
Source: PA