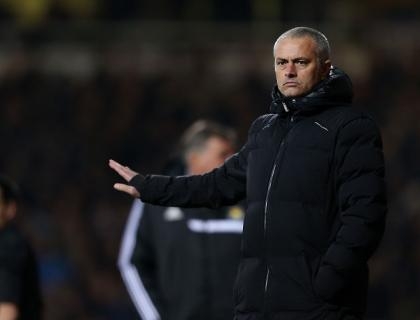 Chelsea need a point to advance but a fourth straight win, following the opening loss at home to Basle, would secure top spot in Group E ahead of the final encounter with Steaua Bucharest on December 11.
In comments reminiscent of his first spell - when Mourinho sported a crew-cut and memorably stated "I am ready for the war" - the self-proclaimed Special One stated his desire to beat Basle and then focus on eight domestic fixtures in December, seven of them in the Barclays Premier League.
"It's a period I like," said Mourinho, again sporting a short haircut.
"It's a period where I think only the braves can survive because it's hard.
"We go into the Christmas period and the accumulation of matches is so high, we don't do it as a normal thing, we do it as a special group with a special mentality, enjoying the situation, forgetting we don't have a Christmas (break) like the Spanish, Italian and German players. We don't have that.
"But we have the pleasure of playing a period that's only for the braves. I like that very, very much.
"I enjoyed it when I was in England and I missed it when I was in Spain and Italy. Now I'm back I want to enjoy it, I want the players to enjoy it, and we need a special mentality to cope with that situation.
"Nine matches and one of them is the match against Steaua. That's our motivation for tomorrow, to try to kill the situation in the group phase and give us a little bit of space in December; instead of having nine real, competitive matches, we only have eight."
During the international break, a time Mourinho dislikes, he borrowed Fernando Torres' hair clippers, cut his hair himself and then sent a picture to his wife for her approval, which was forthcoming.
Asked why he cut his hair, Mourinho said: "Some people can't do what I did. In a couple of months I'll have hair again. Some other people cannot do it.
"I decided to do it. I asked Fernando to give me his machine and I did it myself in front of the mirror. It's nice and cheap."
"Mrs Mourinho, I sent a picture before I arrived at home to see if I could go in... Yes, no problem."
Torres is fit to return from an adductor injury which has seen him miss the last three matches but defender David Luiz did not travel due to a knee problem.
Juan Mata, the Blues' player of the year in each of the last two seasons, has found opportunities limited this term and will get his chance in December.
"He (Mata) deserves to play but I can't start with more than 11," added Mourinho, who pointed out Germany's Andre Schurrle, Belgium's Kevin De Bruyne and Willian of Brazil have also had limited chances.
John Obi Mikel was also not in favour at the start of the campaign, something he attributed in part to a disrupted pre-season at the Confederations Cup. Mikel's Nigeria competed in the tournament alongside Mata's Spain.
Mikel performed well in the 3-0 win at Upton Park, his presence allowing others, including Frank Lampard, to push forwards in a strong Blues display.
Mikel, who dismissed rumours of a summer switch to Galatasaray, said: "The way we played on Saturday was exactly the way the manager wants us to play. "You could say the real Chelsea is back. We're playing with lots of confidence. The manager is giving lots of confidence to the team.
"Tomorrow is going to be tough but we want to come out full of confidence, play well, win, get the three points and, hopefully, we'll qualify."
Mourinho insists the onus at St Jakob Park is on Basle, who must match Schalke's result with Steaua and beat the Germans next month to advance.
"They are under pressure and we are not," Mourinho said.
"We can finish the job to qualify and Basle, even if they win tomorrow, have to play a last final at Gelsenkirchen.
"For them, the situation is difficult. This shows clearly that, after the first match, we did our job and they didn't do theirs.
"This Chelsea is better than the Chelsea that played at Stamford Bridge. Hopefully we can continue the good run we've had in the Champions League and finish the job tomorrow."
If Chelsea do as Mourinho hopes their focus will turn to the Premier League, beginning with Sunday's match with Southampton.
Mourinho has talked of six title contenders and maintains Tottenham are one of them despite their 6-0 loss at Manchester City.
"It's better to lose one game 6-0 than to lose six matches 1-0," Mourinho said.
"It hurts more, but it's better."
Source: PA
Source: PA