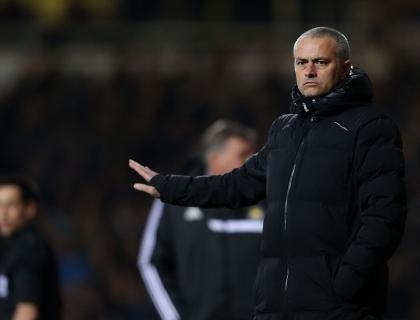 Chelsea play at St Jakob-Park seeking a fourth successive win - following the defeat to the Swiss in the opening game at Stamford Bridge - to seal top spot in Group E for Mourinho's men.
Basle, meanwhile, sit third, one point behind Schalke, and to advance must match the German side's result against Steaua Bucharest before going to Gelsenkirchen and winning.
"If somebody has to feel the pressure, it's not us," Mourinho said.
"It's Basle, because they are in a limited situation to qualify for the next round.
"They are under pressure and we are not. We can finish the job to qualify and Basle, even if they win, have to play a last final at Gelsenkirchen.
"For them, the situation is difficult. This shows clearly that, after the first match, we did our job and they didn't do theirs.
"This Chelsea is better than the Chelsea that played at Stamford Bridge.
"Hopefully we can continue the good run we've had in the Champions League and finish the job."
If Chelsea do as Mourinho hopes their focus will turn to the Premier League, beginning with Sunday's match with Southampton - the first of eight domestic games in December.
Mourinho has talked of six title contenders and maintains Tottenham are one of them despite their 6-0 loss at Manchester City.
"It's better to lose one game 6-0 than to lose six matches 1-0," Mourinho said. "It hurts more, but it's better.
"I don't remember in one of these fixtures that all of us, all the six contenders, when we win all of us at the same time.
"Next weekend somebody will lose points, again and that's the Premier League.
"In Spain they are complaining the championship is not good. In Germany they are complaining the championship is not good.
"We should not complain about our Premier League. We should say it's the best championship in the world."
Mourinho's determination to beat Basle is so the December 11 clash with Steaua becomes an irrelevance and full focus can be applied to domestic competition, namely the seven Premier League fixtures.
He added: "That's our motivation for (tonight), to try to kill the situation in the group phase and give us a little bit of space in December; instead of having nine real, competitive matches, we only have eight."
Source: PA
Source: PA