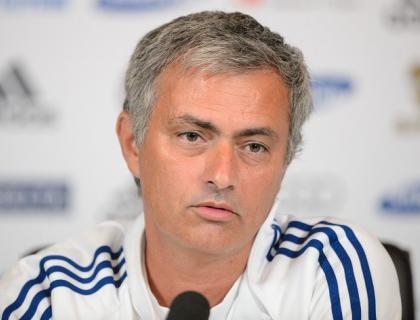 Saints have been the revelation of the Barclays Premier League season with Pochettino at the helm and a free-flowing style which is at odds with many teams who travel to Stamford Bridge and adopt a defensive approach.
"I'm expecting them to play according to their identity," Mourinho said.
"Do we allow them to do that? Do we allow them to play comfortably, the way they like to do it? That's another point.
"But in their minds, I think they'll try to be what they are."
Mourinho dismissed his personal record against Pochettino while the pair were in Spain.
Mourinho's Real Madrid and Pochettino's Espanyol met four times, with the Portuguese's teams winning on each occasion.
"For the good and for the bad, I don't believe in this," Mourinho said.
"My record against him was me as a Real Madrid manager and him as an Espanyol manager.
"If the record was in his favour, it would be a big surprise. For the record to be in favour of a Real Madrid manager is normal.
"He's a very good manager and is doing very well."
When Pochettino replaced Nigel Adkins, it was an unpopular decision, but the former Argentina defender has taken Saints to another level.
Buying well has been key to their progress this term, according to Mourinho.
"When you finish your first season you are much better prepared to understand the needs and the profile of your purchases," Mourinho added.
"He had the possibility this summer to buy adapted to his needs and this is important. He chose well.
"The team is very compact, is very solid and they are doing very, very well.
"Can they finish top four? I think it's very difficult, because it will be difficult for the six title contenders to finish in the top four.
"Imagine for the others that come behind.
"But the team is very, very good and for sure they will have a very good season and for sure the match on Sunday will be a difficult match for us.
"Normally it would be even more difficult for them."
Chelsea needed a controversial penalty to avoid defeat - and extend Mourinho's 66-match unbeaten home run in the Premier League - against West Brom in their most recent home match before beating West Ham last Saturday and losing at Basle in the Champions League on Tuesday night.
The Saints clash is the first of nine in December for the Blues, with matches away to Sunderland and to Stoke following in the next week.
"I have to think about the week, not just about the match," Mourinho added.
"Of course this is the most important one because it's the next one.
"I have conditions to make rotation and to put fresh legs and fresh blood from match to match, especially in some positions."
Source: PA
Source: PA