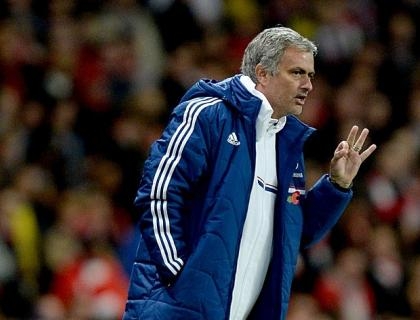 Chelsea head to Newcastle on Saturday on the back of a six-game winning run and knowing victory would take them top of the Barclays Premier League, for a few hours at least.
Mourinho made 10 changes for Tuesday night's 2-0 Capital One Cup win at Arsenal and will have to disappoint the majority of that team when he picks his starting line-up for the lunchtime kick-off.
But as he tuned up for the trip to Newcastle, Mourinho put their recent fine form down to a squad of players who are all singing from the same hymn sheet.
"A big team is a state of soul, a collective soul, and at this moment all my players have this," said the Blues boss.
"It doesn't matter to the soul if you score or don't score, if you play well or don't play well. It is a good squad and good people, and we try our best every match.
"It is the ambition to do well for the team, and the ones who didn't play who are waiting for their turn,
"It's what they all do - the objectives of the team are more important than the individual.
"They have individual ambitions and targets - they want to go to World Cup, to play every game, they don't want to go on the bench - but the team is more important.
"We are a team. I can speak individually to any of them but normally I just speak to my team."
One player to buy into this philosophy appears to be Fernando Torres, who is finally showing glimpses of the player Chelsea spent £50million on when they bought him from Liverpool nearly three years ago.
Torres has scored three goals in his past two matches, including the winner against Manchester City last weekend.
Yet Mourinho has once again played down his role in the Spain striker's sudden, and unexpected, resurgence.
"I repeat I did nothing," said the former Real Madrid coach. "I did what I always do in trying to get the best out of the players, but in a very normal way.
"Fernando is responsible for his self-motivation and his commitment and the way he is working every day.
"Why has he changed? Maybe it's the team.
"He's a close friend of one of my players at Madrid, Alvaro Arbeloa. Arbeloa told me he was a fantastic professional and you will get the best out of him because you have common principles.
"He knows him very well from Liverpool and the national team. He said you will have a good surprise with the person and the professional."
Mourinho has a full-strength squad available for the trip to meet Alan Pardew's side.
The Portuguese boss has a surprisingly poor record at St James' Park having not managed to pick up a win there in the league during his first spell at Chelsea, a fact he was unaware of until now.
"I didn't ever win there? Well let's try now," he added.
"We know we have one of our most difficult matches of the season. They have a good manager, a good team, good players and a good crowd.
"They have just lost a local derby (against Sunderland) which will shake the pride of the players - and every time I played Newcastle it was always difficult.
"Normally everybody tries to win against top teams, so I'm expecting a difficult match."
Source: PA
Source: PA