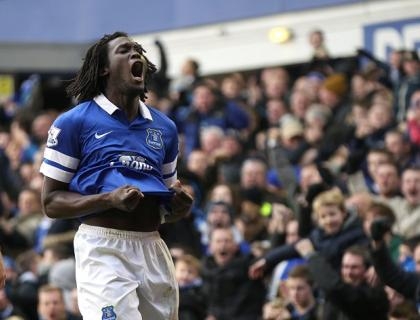 It is understood the 20-year-old Belgium striker asked to move following the August 30 European Super Cup defeat to Bayern Munich in Prague, when he missed the decisive penalty in a shootout defeat for Jose Mourinho's men.
Lukaku did not believe he could compete for a regular starting place for the lone striker's role after the arrival of Samuel Eto'o to join Fernando Torres and Demba Ba.
His request was immediately rejected and a loan with Everton negotiated on September 2, transfer deadline day, with his season-long switch ending the prospect of Ba leaving Stamford Bridge on loan.
Lukaku joined Chelsea from Anderlecht in August 2011 for a reported fee of £20million and spent last season on loan at West Brom, scoring 17 goals.
At Everton, he has scored seven goals in seven Barclays Premier League starts.
Mourinho has repeatedly been asked about Lukaku's situation since allowing the Belgian to move and was again ahead of Sunday's match with Southampton.
Mourinho said: "Romelu likes to speak. The only thing that he didn't say is why he went to Everton on loan.
"When some day he scored and he was saying 'I hope Jose is watching this'. It was like saying 'why did he let me go?' and that's what I'm telling you now. Tell the country why you left. Ask him.
"When you keep quiet all the time, you keep quiet all the time. When you like to speak, when you enjoy to speak, speak everything. Don't speak only half of it. Speak everything.
"And it's a simple question: why did you leave Chelsea? Ask him."
Mourinho believes there are a number of positives to Lukaku playing at Everton.
Mourinho added: "It's good for his evolution. It's good for Chelsea, because he belongs to us for a long time and I'm happy with that.
"I'm happy that he's scoring goals against our direct rivals and he doesn't score against us because he can't.
"It's phenomenal when you have a player even when he's not playing for you he's scoring against your opponent. That's very, very good."
Mourinho stated he is unlikely to sign players this January - "most probably we are going to end with this group," he said - as few players are available who would improve his squad and be available for the Champions League.
Chelsea have won the title once since Mourinho's departure - with Carlo Ancelotti in 2009/10 - after he delivered the club's first championship for 50 years and successive titles at the start of his first spell.
He believes winning the Premier League this season would be a greater achievement than that 2004/05 success.
Mourinho said: "To win when a club is not historically a winner is a hard step. But I think winning the title this season would be a bigger achievement.
"In my time it was just three teams fighting for the title. Now it's six. And the difference between the three and the rest was a big distance.
"And in this moment the distance between the six is short and the difference between the six and the next three, four is also short. Nobody knows what can happen.
"Maybe the difference will be a couple of points. It will be good fun I think.
"I think we have the competition that every country wants to have and nobody has."
Source: PA
Source: PA