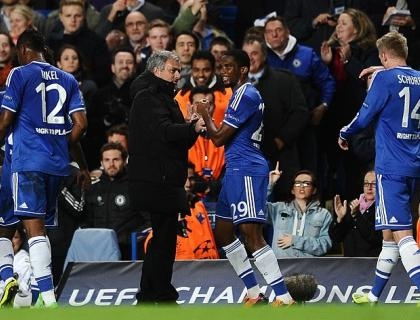 Samuel Eto'o scored twice and Demba Ba was also on target as Chelsea responded from the defeat at Newcastle with a victory which enhanced the Blues' place at the top of Group E.
Mourinho made six changes from the loss at St James' Park, one enforced, with Eto'o replacing the injured Fernando Torres.
"It's nothing to do with drop this one or that one," Mourinho said.
"It has to do with their mentality and they were strong."
Eden Hazard was not even in the squad.
Mourinho revealed the Belgium forward missed a crucial training session but was reluctant to comment further.
"Willian played fantastic," said Mourinho, when first asked about Hazard before being pressed over whether the Belgian was injured.
"I don't want to lie. He's not injured. He forgot the time.
"Let's end the story. He's a kid, kids make mistakes and fathers they have to be clever in the way they educate their sons.
"He didn't play, he wanted to play. He's sad because he wanted to play.
"We won without him and Saturday he's back. End of story."
Torres will miss Saturday's match with West Brom with an adductor muscle injury.
The Spain striker underwent a scan on Wednesday and faces up to three weeks out.
"We hope that he's back after the national teams, but of course no chance for this weekend," Mourinho said.
In the absence of Torres, who scored twice in the 3-0 win in Gelsenkirchen, Eto'o stepped up.
The Cameroon striker, who dispossessed Cardiff goalkeeper David Marshall as he bounced the ball last month to set up Eden Hazard, ran at Timo Hildebrand as the Schalke stopper prepared to fire down field. Instead Hildebrand kicked it against the striker and saw the ball go into his own net.
There was nothing lucky about the second as Eto'o, previously a Champions League winner with Barcelona and Mourinho's Inter Milan, converted clinically.
Mourinho said: "My favourite players are the players that win matches for me, not the ones that lose matches for me.
"Samuel worked with me in the best season of my career. We won everything. So he's in a good position."
Eto'o has started life slowly at Chelsea - they were his second and third goals after his first versus Cardiff - following his move from Anzhi Makhachkala.
Mourinho added: "He was for two years playing without big motivations and when you play without big motivations, you train without big motivations and you lose condition, and you lose sharpness, and you lose even appetite.
"It was not a surprise for me that he arrived here not in the best conditions after two years in Anzhi.
"Now step by step he is going. He is 32 but he's a fit, slim guy.
"He's not a heavy body. He's intelligent, of course, and I think goals give confidence.
"The first one is a fox goal, the second goal is a very good collective goal.
"Willian's choice is fantastic, Ramires' run to give an extra option to Willian is fantastic and Samuel's movement was brilliant."
Last season, Chelsea suffered the ignominy of becoming the first holders to exit the tournament at the group stage.
Now they are three points clear in the standings ahead of the trip to Basle, who in September ended the Blues' near 10-year, 29-match unbeaten home run in the group stages of the Champions League.
"We won in quite a comfortable way and it's good for us," Mourinho added.
"After the Basle defeat we put ourselves in a difficult situation and it's fantastic that after the fourth fixture we have qualified, almost. Not yet."
For the second time in two games, Schalke, who beat Arsenal in London last October, were comprehensively beaten by Chelsea.
Schalke boss Jens Keller said: "We started really well, we had three chances, but if you have three chances you've got to take one of those chances.
"Unfortunately when we conceded the first goal it was a huge mistake and this meant we were 1-0 behind so Chelsea could play as they wanted.
"The second goal for Chelsea was excellent by Eto'o. If you're 2-0 down against a team like Chelsea it's very, very difficult to come back."
On Hildebrand, Keller said: "What can you say about that? Today, apart from that one mistake he saved really well.
"He knows he made a mistake. He's 34 years old. It won't bring him down."
Julian Draxler (shin) and Kevin-Prince Boateng (knee) departed injured in the second half, hampering Schalke's cause.
Nevertheless the Germans remained second in the group ahead of matches with Steaua Bucharest and Basle.
"The result was not so good for us, but it's still in our own hands and we still have a good chance to qualify," Keller added.
Source: PA
Source: PA