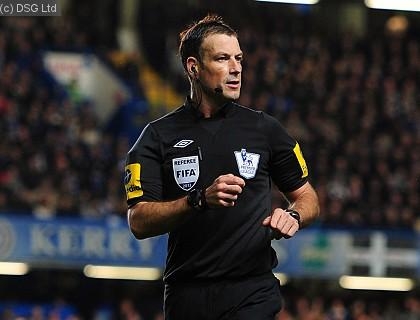 Clattenburg is set to return to frontline refereeing for Wednesday's Barclays Premier League game between Southampton and Norwich, a month to the day since his world was turned upside down. The 37-year-old has attempted to draw a line under the allegation that rocked the game when a joint statement was issued following a meeting that saw him shake hands with Chelsea chairman Bruce Buck.
The statement included an admission from the European champions that they should have "given more consideration" before making public allegations Clattenburg racially abused midfielder John Obi Mikel during their explosive defeat to Manchester United on October 28.
Clattenburg was last week cleared of any wrongdoing after the Football Association decided he had no case to answer over Chelsea's complaint he called John Obi Mikel a "monkey", with police having already shelved a probe into the matter.
The Blues' handling of the allegation and their refusal to apologise prompted a furious backlash against a club already tainted by the John Terry racism scandal.
Referees' union Prospect had demanded an apology and compensation for Clattenburg but said in a statement on Tuesday: "Prospect had called for Chelsea to pay compensation to Mark but has now dropped that demand on the basis that Mark has received the response that he sought."
Monday saw Buck meet with Clattenburg, the remaining 15 Select Group referees, their boss - Professional Game Match Officials general manager Mike Riley - and Premier League chief executive Richard Scudamore.
The joint statement read: "The Select Group appreciated the opportunity to speak to Bruce Buck personally. His willingness to engage and answer all the questions put to him was welcomed. There was a constructive and open discussion.
"The club regrets not having given more consideration before issuing a statement on the evening of Sunday 28th October. The club also regrets the subsequent impact the intense media scrutiny had on Mark Clattenburg and his family. The referees accept that, given Chelsea FC had received a good-faith claim from one of their employees, the club had an obligation under FA rules to report the allegation."
Chelsea made their complaint against Clattenburg after midfielder Ramires claimed the official had racially abused Mikel during the Barclays Premier League game against United. The Blues went public with their allegation hours after the final whistle, the timing of which particularly angered the referee and his fellow officials.
Source: PA
Source: PA