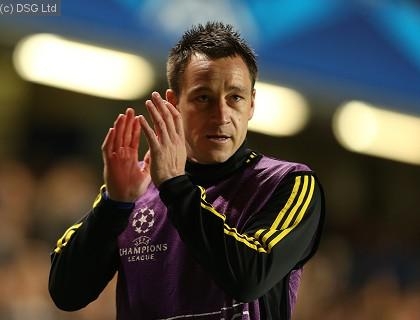 Di Matteo sprang a huge surprise on Wednesday night by leaving Terry on the bench for the Blues' Champions League victory over Shakhtar Donetsk, citing a lack of match fitness after the 31-year-old was limited to only one competitive outing in a month due to his domestic four-match racism ban.
It was arguably the first truly big game their skipper had missed when fit and available for almost a decade, but Di Mattteo said: "He's certainly a fantastic player for us and he will continue to be so and continue to be our captain and our leader when he plays."
However, it is precisely how often that is which is now far from a certainty.
"I don't think anybody's guaranteed a starting place," Di Matteo said. "They all have to work and be fighting for their place in the team.
"We've got a lot of competition in the team and they're all internationals. We've got an England international playing or a Brazil international, or a Serbia international.
"So, all of them are international players that have a lot of quality and they are at a very high level."
And that means further rotation as Chelsea get to grips with another punishing schedule of matches.
"To play every three or four days is very tough and demanding for everybody," Di Matteo said.
"And while we've got the options to change and bring in fresh players with the quality that we have in our squad, I think it's right to do so. Otherwise, we'll hit the wall at some point."
Source: PA
Source: PA