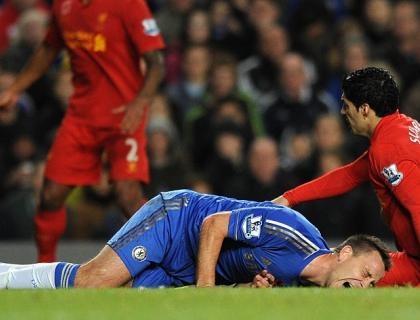 The 32-year-old has not featured for the Blues since the 1-1 draw with Liverpool on November 11 following a collision with Luis Suarez. Terry had been expected to be out for three weeks but is only now closing in on a return two months on.
The centre-back is due to face Fulham with Chelsea's Under-21 team on Thursday evening, which Benitez admits could see him return to the first team at Stoke on Saturday. "John Terry has been training and we are considering playing him on Thursday with the Under-21 team," the Spaniard said.
"The good thing is he is now training so now he can carry on. We will see how he feels on Thursday and hopefully he can play more minutes in the short term so we will see.
"At least that is a positive thing because before he was just doing the warm-up. Now he is training and can play so I think we are obviously closer."
Asked if he could be involved against Stoke, he added: "It depends on his reaction.
"Obviously Thursday will be a different kind of game but we will see how he feels.
"If he can feel okay and train the day after, at least we can start considering him as an option."
Source: PA
Source: PA