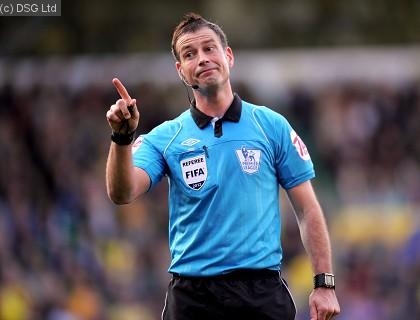 The Football Association announced on Thursday afternoon they would take no action over allegations Clattenburg made a racist remark towards Chelsea's John Obi Mikel during a fixture against Manchester United on October 28. The 37-year-old is now free to resume officiating, possibly as early as next week.
"It allows us to draw a line in the sand," Gallagher told BBC Radio 5 Live. "There is no charge to answer. Over the last few weeks he (Clattenburg) has got on with his training with all this external pressure."
Gallagher added: "He has come out of it with his head held high, he`s one of the best referees in the world and hopefully he can now go out and resume his career, maybe in the fixtures on Tuesday and Wednesday. It will (be easy), because all a referee wants to do is go out and referee."
Nearly a month has passed since the allegation was levelled at Clattenburg, but Gallagher believes the FA have done the right thing in taking a thorough approach to their investigations.
"In fairness, I think we can say we`ve had a full and thorough investigation, so no one can say anything," he said. "The FA got an independent body in and came to the conclusion to draw a line in the sand and move on. I think it`s a good thing."
Alan Leighton, national secretary of Prospect, the referees` union, would like Chelsea to apologise and compensate Clattenburg for what he has been through.
"There was no doubt he was innocent," he told Sky Sports News.
"There are lessons to be learned. Mark is very upset that his reputation has been dragged through the mud by this process, there was no need for Chelsea to make the public aware of the allegation.
"There is also an issue of flimsiness about the evidence provided. We need Chelsea to accept the verdict, apologise to Mark and compensate him for that."
Source: PA
Source: PA