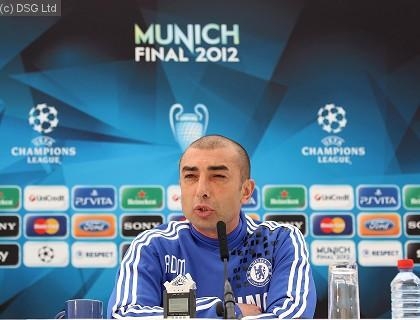 For the second time in Abramovich's nine years as owner, Chelsea will contest the most important club game on the planet on Saturday. The lure of the Champions League is what brought the Russian billionaire to Stamford Bridge, his hunger to win it has arguably cost half a dozen managers their jobs.
Di Matteo is confident that Abramovich's dreams will be realised in the final showdown with Bayern Munich. He said: "We can win it. We have to believe and have the confidence to do so. I don't know how somebody else feels. I can only guess he (Abramovich) is excited. Sooner or later it will come."
He added: "We hope it's tomorrow. But with the quality that's been at this club before and will certainly come into this club again, it will happen."
The 68th richest person in the world, according to Forbes, Abramovich's Champions League history is scarred by ill fortune.
Luis Garcia's ghost goal for Liverpool in 2005, John Terry slipping as he lined up the penalty that would have secured victory over Manchester United in 2008, Andres Iniesta scoring a semi-final winner for Barcelona in injury-time 12 months later.
No amount of money can ease the pain of being kept apart from that elusive prize. "I haven't had direct message from the owner," said Frank Lampard. "The general message is always there. He has put a lot into this club. Without him, we wouldn't be sitting here now. He's always been behind us. You don't get into a final very often. We want to win it now."
Chelsea are reliant on winning Saturday's game in order to qualify for next season's Champions League.
The mere fact they have that chance, having lifted the FA Cup a fortnight ago, is confirmation Di Matteo not only stabilised the situation but managed to get the Chelsea ship moving forwards again, thanks chiefly to a memorable night against Napoli in a last-16 tie that, under Andre Villas-Boas' watch, appeared to have drifted out of reach.
"We have had a difficult season," said striker Didier Drogba. "We had a lot of criticism. But when big teams don't perform that is what you expect. We've shown everyone that we're still a very good team and, if we win tomorrow, everybody will just remember we won the cup."
Source: PA
Source: PA