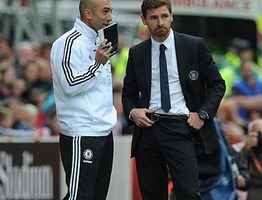 The west Londoners never looked in any real danger of slipping up at Stamford Bridge as they netted four times in the second half of the third-round tie.
"I thought it was a very good all-round performance," Di Matteo said. "Portsmouth made it very hard, especially in the first 45 minutes, and it is always difficult to break an opponent down and find a space with so many players."
He added: "It was just a matter of scoring the first goal and we were always confident we were going to be able to do that.
"In the second half we got further forward and secured the win. I think it was a matter of finding the spaces and keeping possession. We knew the chances would come and that is exactly what happened in the second half."
For Portsmouth attention returns to the npower Championship after a slightly cruel defeat for Michael Appleton's side.
"Conceding after two or three minutes of the second half does not help matters, especially after a good first-half performance," the Pompey manager said.
"I thought we got back into the game and you could sense their was a bit of nervousness before the end when they got their second goal.
"I think (the performance) was a credit to the boys but that is why Chelsea are where they are and we're a Championship club.
"The longer the game goes on, fatigue comes in, a lack of concentration comes in at times and obviously they have got players that can be clinical."
Source: PA
Source: PA