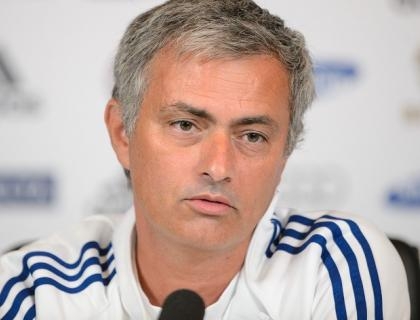 Clarke takes his West Brom side to Chelsea on Saturday as he pits his wits against Mourinho for the first time as a manager, with the two friends sitting in opposite dugouts.
Mourinho believes Clarke cut his teeth serving as his assistant as well as taking on greater tasks under Avram Grant, Gianfranco Zola and Kenny Dalglish when he left Chelsea.
"We have stayed in touch but have not been speaking about our jobs directly," Mourinho said of Clarke.
"He had a good experience with me but he had a good experience during his playing career. He was always very focused and very organised.
"In other cases for sure he was more than an assistant coach, he was in control of training sessions and match preparation so he had very good experience and when he became a manager for the first time he was very well prepared.
"I knew he would do very well and I'm so happy with that. He knows that every match he plays I am with him and wishing that he wins, but tomorrow is obviously not the case.
"I'm of course very happy to meet him, before and after the match it will not be the same thing to play against Steve than against any other manager."
With a number of eye-catching results, including a 2-1 win at Manchester United, Mourinho knows Clarke's West Brom side will provide a tough test on Saturday.
"He is very good," Mourinho added. "He organises his team very well from a defensive point of view and it is very difficult to play against his team because they defend so well.
"They are always a difficult team and this season we have simple examples, they stopped Arsenal winning and won at Old Trafford - Steve's teams are always difficult."
Chelsea go into the game on the back of a 3-0 Champions League win against Schalke on Wednesday night but slipped to a 2-0 defeat at Newcastle in their last Barclays Premier League game.
Mourinho was left fuming at his side's performance at St James' Park and revealed it caused him to get angry with the squad for the first time since his return to the club.
When asked if it was the first time the players had seen a different side of his character, Mourinho replied: " Yes. Because the defeat against Everton was a consequence of what football can be, you never know when you are going to lose or win.
"The defeat against Basle was a very strange one but in the game against Newcastle my feeling was not good from the first minute.
"For the new ones, with the ones I work with for the first time, maybe it was the first time they felt me but I don't want to be scary.
"I just want to influence their mentality. Make them stronger and tougher and more professional and with more ambition, and not to hide behind a couple of good results.
"They have the right mentality, which they showed me against Schalke, I will make them stronger. The reaction against Schalke was what I wanted."
Mourinho will welcome Eden Hazard back into the squad after he missed the Schalke game after missing training on Monday, but striker Fernando Torres remains sidelined with a leg injury.
Ryan Bertrand is back to bolster the defensive options available with midfielder Marco van Ginkel still absent with a long-term knee issue.
Source: PA
Source: PA