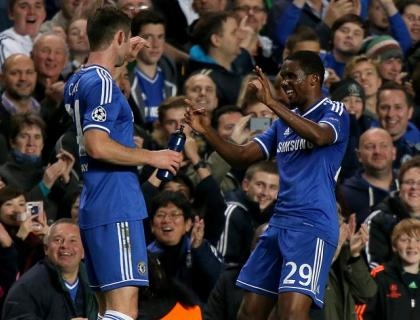 Hazard lost passport - Mourinho

Chelsea manager Jose Mourinho has confirmed Eden Hazard was dropped for the Champions League clash with Schalke after losing his passport following an unsanctioned trip to France, but has said the incident is now closed.


Hazard, 22, travelled to watch former club Lille on Sunday but had complications in getting back in time for training on Monday, with the missed session causing him to be left out of Mourinho's squad in midweek.


The Portuguese was not happy that Hazard had been absent from training but now insists the club will move on.


"He went to a foreign country when he shouldn't have," Mourinho said.


"On top of that he lost his passport which didn't allow him to be back in training, which is obviously unacceptable.


"It is over. No more consequences, the consequence was not to play which is the worst thing that can happen to a player. Case over, he is a very good kid and there are no problems.


"It was not a big story. Every player knows me and knows my reaction, the group is always more important than any player."


Mourinho also admitted the decision to leave the Belgium international in the stands could have come back to haunt him as Chelsea looked to move towards the knockout phase of the Champions League.


The Blues ended up winning 3-0 without Hazard and Mourinho confirmed he will be available for selection for the Barclays Premier League fixture against West Brom on Saturday.


"I think he (Hazard) reacted well because he apologised to me and to the club," he said.


"Of course the apology was not accepted because it is something I couldn't accept but it is over so now it is something that doesn't exist any more.


"He is selected and ready to play and I believe he has the appetite to play because he loves playing and I didn't allow him to play the last game.


"It was a bit of a risk to not play him, speaking in terms of pure football, because he is a player who could have helped us win an important match.


"You have to take some risks when you feel the consequences for the group are very important and i think it was an important decision."


The Blues will still be without Fernando Torres against West Brom while Ryan Bertrand is available once again.


Steve Clarke goes head to head with his old friend and former boss Mourinho for the first time this weekend insisting his West Brom side's clash with Chelsea is solely about picking up points.


Clarke has not seen his Portuguese mentor for more than five years since their highly successful spell at Chelsea together ended in 2008.


Mourinho appointed the Scottish coach as his assistant manager at Stamford Bridge before the pair went on to win two Premier League titles, an FA Cup and two League Cups together.


While Mourinho left England for spells at Inter Milan and Real Madrid, Clarke spent time as assistant manager at West Ham and Liverpool before making the step up to management at West Brom in 2012.


His maiden campaign was an impressive one as Albion finished eighth in the Premier League and he will be reunited with Mourinho at Stamford Bridge as equals on Saturday.


"Jose sent me a text this week asking if I needed any tickets for the game, which was nice of him," said Clarke.


"My lad has his season ticket so he'll be watching from the Chelsea end. There are no big issues and I didn't need any tickets from him.


"The friendship is good. I don't speak to him every week or text him every week but the friendship is good. When you've worked with somebody closely you build a bond and you take that bond with you for the rest of your life.


"I haven't seen him for well over five years. So it will be nice to catch up with him face to face rather than just little text messages."


Clarke was wary of the attention being placed on their relationship ahead of the match.


"My job now is head coach of West Bromwich Albion," he said. "I want to prepare my team well for the game, I want to get a positive result for Albion.


"This weekend Jose is in the opposition dug-out but it doesn't change our preparation or what we want to get from the game."


Former Chelsea winger Scott Sinclair is unlikely to be back from a long-standing hamstring injury in time for the game against his former club.


Victor Anichebe has fully recovered from a hamstring problem himself but Nicolas Anelka is doubtful with a groin issue, while Billy Jones, Zoltan Gera and Ben Foster miss out.



Source: PA
Source: PA