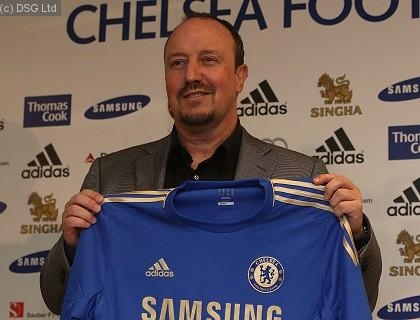 Hectic week for Zenden

Boudewijn Zenden has spoken of the "madness" of his whirlwind return to Chelsea after joining Rafael Benitez's coaching staff.

Benitez sprung a surprise following his appointment as interim manager on Wednesday night by recruiting former Blues and Liverpool star Zenden as an assistant.

The Dutchman had no previous coaching experience but jumped at the chance to help the club where he spent three years as a player between 2001 and 2004.

"It's been really hectic, to say the least," Zenden told Chelsea TV.

"It really came as a surprise to me as well.

"I got the shout at eight, nine-o'clock in the evening, and they told me to come around next day at 1pm at Cobham.

"I thought, 'I'd better start packing my stuff and try to sort out a flight', because it really happened so fast."

Benitez and Zenden were given only three days to pick up Chelsea up from their fateful Champions League defeat at Juventus, the latest in a string of poor results that cost Roberto Di Matteo his job as manager.

To make things even more difficult, the new men in charge must somehow try to mastermind a victory at home to Premier League champions and leaders Manchester City on Sunday.

Zenden added: "The first day was absolutely hectic, a bit of madness, because no-one really knew what was going to happen and everyone has to try to find their feet again.

"It gives you just a short time space to prepare things.

"You cannot go at 200mph - it's not going to work - so it will take a little bit of time.

"The players are willing to pick it up quickly and that's the right attitude, I guess."

Benitez must decide whether to recall Fernando Torres, who thrived during the pair's time together at Anfield, for his first game in charge against City.

One of Di Matteo's final acts as manager was dropping Torres for the first time this season before Tuesday's trip to Juve.

Chelsea remain without John Terry (knee) and Frank Lampard (calf).

Manchester City manager Roberto Mancini claims there is no extra pressure to retain the Premier League title as a result of European failure.

City can longer no longer reach the knockout stages of the Champions League after collecting just three points from their first five group games.

Mancini's men made amends for a similar failure last season by going on to win their first league title in 44 years and the focus will now shift mainly to repeating that success.

With expectations continuing to rise at the Etihad Stadium, it was suggested to Mancini that the pressure on him to achieve that will be greater than a year ago, but he disagrees.

The Italian said: "I think we could be disappointed because we wanted to go and play the February stage in the Champions League, because we have good players and these players probably deserved to play in this competition.

"But we don't have pressure. We know we have a chance to win if we stay together in a difficult moment like now, but we do not have pressure because we went out of the Champions League."

With City still unbeaten in the Premier League - and top of the table prior to this weekend's fixtures - the situation is far from dire for Mancini.

But the team have still largely lacked the dynamism they displayed early last season and they will face a stern test of their credentials at Chelsea this weekend, whatever the recent turmoil at Stamford Bridge.

Mancini said: "I think that we had a problem, we had players injured and we are on the top. I think we can improve more.

"Also, I think this championship will be stronger than last year because I think also Chelsea will fight for the title.

"There are three (teams) in this moment."

City captain Vincent Kompany is doubtful for the match having suffered a knee injury in the Champions League draw with Real Madrid on Wednesday.

The Belgian battled through to the end of the match but left the stadium on crutches and was to undergo a late fitness test.

Striker Mario Balotelli, dropped for the defeat of Tottenham a fortnight ago, has been training after being forced out of the last two games by a back injury.

Left-back Gael Clichy (ankle) is back in contention while midfielder Jack Rodwell (hamstring) edges closer to a return but right-back Micah Richards (knee) is still out.

Source: PA
Source: PA