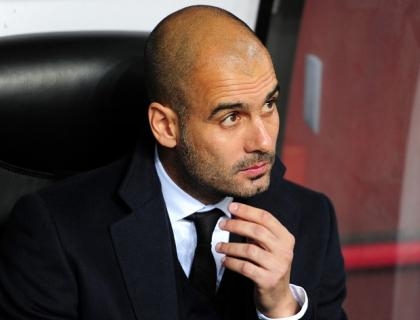 Guardiola will move to Germany in the summer and has signed a three-year contract, with Bayern's impressive appointment quashing the prospect of the former Barcelona boss moving to the Barclays Premier League in the near future.
Chelsea have been repeatedly linked with the man Blues owner Roman Abramovich is reputed to admire greatly. Reports have claimed he was offered a lucrative contract to take over when interim manager Rafael Benitez's stint finishes at the end of the season, and it has been confirmed that Guardiola turned down more money from elsewhere.
Chelsea have never confirmed their interest in the former Spain midfielder, but his record at Barcelona, where he won 14 trophies in four years, made Guardiola the most sought-after out-of-work coach in world football.
It emerged that Guardiola signed up for Bayern before Christmas. His agent Josep Maria Orobitg said: "I don't know exactly which day, around the 20th or the second half of December."
Speaking on EFE Radio, Orobitg added: "He chose Bayern because of all the teams from which he had offers it was the best. We were looking over the offers and this isn't the team which offered the most money. It was chosen for the organisation there, for the potential that he sees, and for their players."
That raised the possibility that a Premier League club had offered big money to Guardiola, although AC Milan and wealthy Paris St Germain had also been credited with interest in him. Orobitg added: "There have been things coming out from all sides that there had been offers, real meetings, false meetings, trips which didn't exist.
"From Christmas he had to choose his future. All this has been signed for some time. I didn't know that they were going to announce it this afternoon. In fact they informed me at 12 that it was coming out in a statement."
Former England midfielder Owen Hargreaves, who came through the Bayern ranks, believes moving to the Allianz Arena was an understandable step. "Obviously Barcelona, Real Madrid and Manchester United are some of the biggest clubs in the world but Bayern Munich is easily among that top five," Hargreaves said on BBC Radio 5 Live.
The appointment of Guardiola came as a shock to former Chelsea manager Andre Villas-Boas. The Portuguese, now at Tottenham, told CNN World Sport: "I'm so surprised that I asked my media advisor from Tottenham if it was true. Obviously it's a big, big club, one of the biggest clubs in the world, in a league where we didn't maybe expect Guardiola to be in."
Source: PA
Source: PA