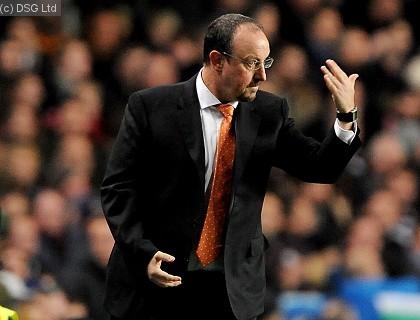 Interim manager Benitez has yet to witness either event in his two matches in charge, successive bore draws with Manchester City and Fulham. Chelsea also failed to find the net in Roberto Di Matteo's final game at the helm, ensuring a run of three matches without scoring for the first time since Roman Abramovich bought the club.
Benitez is also the first boss of the Abramovich era not to win either of his opening two games. But the manager said: "More to win than score. The team needs to score and to win. We are close in terms of what we are trying to achieve in attack. The team has improved the shape in defence, but we need to be a bit quicker in attack."
Chelsea's five-hour, 21-minute goal drought can be blamed partly on an even longer famine for Fernando Torres, who has found the net only once in almost two months.
In the Premier League alone, the £50million man has now gone 10 hours 49 minutes without scoring, while Benitez admitted this week that Torres had lost some of the pace that made him one of the best strikers in the world.
That prompted former Olympic 4x100 metres champion Darren Campbell to offer to coach the 28-year-old in the art of sprinting, having worked briefly with the Spaniard last year.
But Benitez said: "It's different running and running with the ball on the pitch, 11 v 11. [World Cup-winning manager Cesar Luis] Minotti, a famous Argentinian coach, said a sprinter has to run very fast, and when he reaches the line, he finishes. A striker has to run very fast to get the ball and then his game starts."
Meanwhile, Benitez revealed John Terry could travel to the Club World Cup before making his Chelsea comeback, after a knee injury that has sidelined him for almost three weeks.
Asked if Terry could travel without having returned, Benitez said: "Yeah, it could be. It's a question of confidence. When you forget you have that problem in your knee is when you are ready."
Frank Lampard could also travel to the Club World Cup before returning from the calf problem that has ruled him out for more than a month. Benitez said: "You have to analyse what has been happening in the last month, but you can see these players with this character and leadership can be helpful when things are wrong."
Source: PA
Source: PA