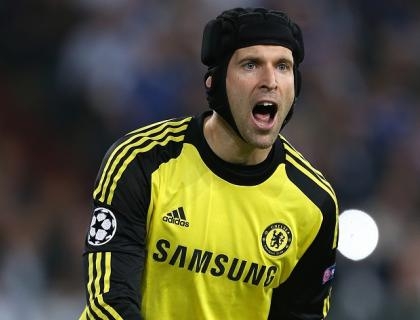 Jose Mourinho's men had to contend with wintry conditions and an early kick-off on Tyneside as they attempted to secure a seventh successive victory against a side attempting to bounce back from derby defeat at Sunderland and a gruelling midweek Capital One Cup exit at the hands of Manchester City.
But despite much huffing and puffing from the title hopefuls, it was the Magpies who emerged with a 2-0 victory which rekindled their season and left Mourinho questioning both his team selection and his players.
Keeper Cech insisted Chelsea had no-one to blame but themselves after dominating for long periods at St James' Park.
The 31-year-old told Chelsea TV: "Apart from the wind, we can't blame anything. The pitch was very good, very fast, and actually it was good to pass the ball, so this was not the reason why we didn't win.
"There are no excuses, no pitch, no early kick-off, whatever. We didn't play well enough to win the game and that's why we lost.
To be fair, they sat back because they were a bit afraid, so it was their plan.
"You could see from the start they wanted to congest the pitch and that's why you don't have many chances to make the tempo and the game really running.
"But to be fair, we had enough possession, we had enough comfort on the ball, but we didn't find a pass."
It proved a sobering afternoon in the north east for the second successive season after a 3-2 defeat at St James' in February secured by Moussa Sissoko's second-half double.
Cech said: "It was exactly the same type of game as last year. We looked comfortable with the ball, we had more possession, but apart from the close thing we had at the beginning, we didn't find a pass to put them under pressure and to make more chances.
"As the game went on at 0-0, they had more belief and the game became more difficult."
Even the most dedicated of Newcastle fans could not have expected what was to unfold after the visitors dominated the opening half-hour with the Magpies pinned deep inside their own half.
Chelsea came close to taking a 13th-minute leader when skipper John Terry headed a Juan Mata corner against the crossbar.
But although the Blues continued to make the running, they were unable to find a way through the black and white shirts and as a result, the home side grew in confidence.
Having made it to half-time unscathed, Newcastle forced their way in front with 68 minutes gone when Yoan Gouffran met Yohan Cabaye's swinging free-kick with a diving header, and although substitute Willian was denied an equaliser by Tim Krul, Loic Remy made sure at the death with a sweet strike.
However, Cech believed it was the opening goal which was decisive.
He said: "Set-plays are a very important part of the game. If you sleep at one and you concede or the opponent manages to score one from a set-play, it's a goal that can always decide a game, and this one decided the game.
"It's a pity because we could have got something out of the game. It was still 0-0 and I believed in the last 10 minutes, we would find something to score a goal.
"But it wasn't to be."
Mourinho, who has still never won a league game at Newcastle, was less than impressed with his team's efforts, and warned them they will have to be significantly better, particularly on the road, if they are to realise their hopes.
He said: "I have never won here, and I have had champions teams. I have won here in the Carling Cup, I think, never in the league.
"Of course, it's difficult. They have a fantastic crowd and the crowd is always behind the team. But you have to come here with a certain kind of mentality.
"If you want to win matches, you have to come with a certain mentality and, for sure, we didn't come."
Source: PA
Source: PA