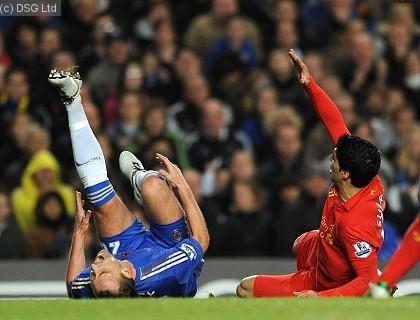 Terry was due in hospital on Monday morning to undergo an MRI scan after his latest comeback ended in agony during Sunday's 1-1 Barclays Premier League draw with Liverpool. Reports suggest Chelsea's medical staff were optimistic the injury would not prove as bad as it initially appeared.
Goalkeeper Cech, who has become Chelsea's de facto captain in the absence of Terry and Frank Lampard, said: "We managed to play games without him and we have players who will have a chance to impress. I have confidence. Obviously, it's a pity we will lose him again but we have a large squad and quality defenders to deal with that."
He added: "It's important to have people who can step up. This is a chance for the others to shine and we are going to deal with his loss for him."
Terry has demonstrated supreme powers of recovery in the past, coming back from minor surgery on the same knee weeks ahead of schedule last season.
Cech added: "He knows what it takes to come back in good shape and as soon as possible. He always heals well and he will come back soon. We saw him afterwards and wished him good luck. We hope the danger is not going to be severe and something that will just keep him out for a few weeks maximum."
Terry's departure 10 minutes before half-time left Chelsea down to two fit centre-backs in Gary Cahill and Branislav Ivanovic. Indeed, none of their back four was first choice in their respective positions, with David Luiz sidelined by tonsilitis and Ashley Cole nursing a hamstring problem.
Manager Roberto Di Matteo bristled at suggestions his side were in the midst of another winter of discontent following their third league game without a win. But Cech was confident Manchester United's three-point lead over Chelsea at the top of the table - and Manchester City's one-point advantage - was easily recoverable.
"The gap is not a huge problem because it is early in the season but any advantage you give to City and United, they can use it in the future," he said.
"It looks like we will be the three to chase the title. There is a long way to go and you will have periods where you might not win every game. If you start looking back at points dropped here and there, it is not going to win you the league. If we get around 90 points, we should be fine."
Source: PA
Source: PA