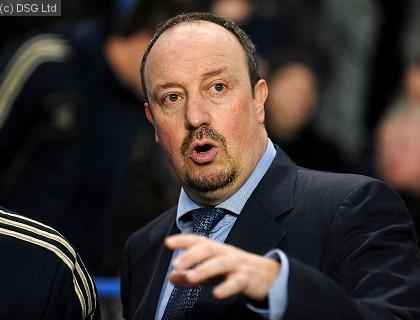 Interim boss Benitez vowed to turn the jeers into cheers having been subjected to the most vitriolic reception imaginable at Stamford Bridge for what was his first match in charge.
Opposite number Mancini claimed the only way for former Liverpool manager Benitez to win over his new club's supporters was to "win, win, win, win, win, win, win, win every game" and Benitez said: "It's not a secret. It's true."
Spaniard Benitez claimed to have not understood expletive-laden chants which included the words: "You're not welcome here." He said: "I was asking: 'What were they singing?'. I don't care. I'm just focused on the game."
He added: "The main things is that the players are focused on the games. If they are, it'll be fine. I have confidence we will do well and win games. Some of the fans will realise it's not the way to support their team."
Owner Roman Abramovich is the only fan that really matters at Chelsea and Benitez said: "He knows it was a tough game, a difficult time after the last games. He's like me. He knows we have to win, want to win, and we keep working for that."
The draw left Chelsea five points behind Manchester United a third of the way through the season. City blew the chance to go back above United, with Sergio Aguero missing a simple chance to put them in front.
"We were so poor in the last 20 metres," Mancini said. "When we have a chance, we need to score. If you are soft, you won't score. That's why I was upset."
Mancini admitted crashing out of the Champions League might play into City's hands in a title race in which he insisted Chelsea were very much a part. But he acknowledged he had never heard such booing for a new manager from his own supporters.
He said: "I work with another team. But I can say it's very difficult for him and for his team to play well. I don't think that Rafa is a magician. I don't think he can change everything in a few days. Weeks ago, Chelsea were on top and playing well. They have good players. Every manager needs time."
Source: PA
Source: PA