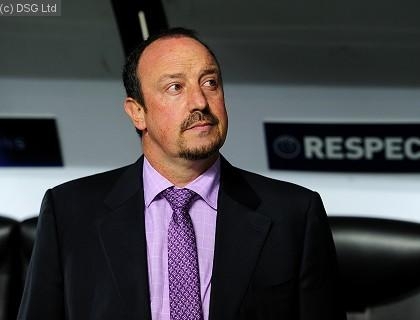 Benitez began the challenge of winning round his new club's players and supporters - something that could be helped by the addition of a former Blues star to his coaching staff. Boudewijn Zenden has become Benitez's assistant, according to the Dutchman's father and agent - although the Spaniard could still face an uphill battle with supporters for whom he has long been a hate figure.
Benitez told Sky Sports News: "You know, the fans they always want the same as the manager, to win games and to win titles."
The 52-year-old said he would take "one game at a time" but was confident of delivering, adding: "I think it is a top side. You can challenge for trophies when you are in a top side."
Zenden's father, Pierre, earlier told Voetbal International his son was on his way to Chelsea.
"He was approached on Wednesday by Benitez and is now on a flight," he said. "Since yesterday, he phoned Benitez many times. I assume that he will be on the pitch this afternoon, together with the manager."
Zenden junior, 36, played for Chelsea between 2001 and 2004 before joining Benitez's Liverpool. He has never before held a coaching role.
Blues fans were still in shock on Thursday morning after owner Roman Abramovich completed arguably his most controversial day yet at Stamford Bridge by appointing Benitez to succeed Roberto Di Matteo. The Russian handed the former Liverpool boss a contract until the end of the season, having seemingly been unable to woo Pep Guardiola - the man said to be his number one target.
Confirming new "interim" boss Benitez would meet Chelsea's players on Thursday, the European champions said in a statement: "The owner and the board believe that, in Benitez, we have a manager with significant experience at the highest level of football, who can come in and immediately help deliver our objectives."
The length of Benitez's contract appeared the clearest indication yet of Abramovich's determination to land Guardiola once the former Barcelona boss completes his one-year sabbatical. And it would be no exaggeration to say Benitez would be the least popular of his eight appointments judging by the reaction of Chelsea supporters on social media.
Source: PA
Source: PA