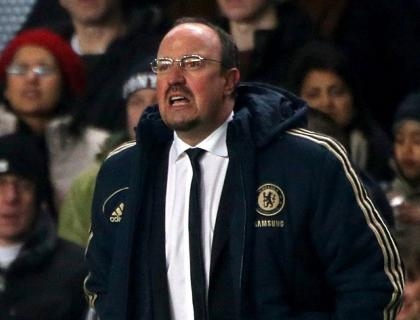 Since his largely unpopular appointment as Roberto Di Matteo's successor, Benitez has had to battle derision from Chelsea fans and now Italy defender Materazzi has added his voice to the critics.
Materazzi described life under Benitez at Inter as like "being back at school", suggested the Spaniard had been lined-up as Jose Mourinho's successor while the Portuguese was in position and had told him to take down photographs in his locker of his former coaches. "He's lying," Benitez said.
"Marco Materazzi is lying. He's lying, just lying. Everything that he said is a lie. Simple.
"When he was talking with Mourinho it's a lie, because nobody knew I was going to Inter, even me. It's a lie. About the pictures, it's a lie. So he's a liar."
Benitez refused to discuss off-field events at Chelsea, including contract discussions for senior players like John Terry, who is in line for a return to the starting XI in the Capital One League Cup semi-final second leg at Swansea, where the Blues must overturn a 2-0 first-leg deficit.
Benitez refused to comment on reports of Real Madrid boss Mourinho, who was popular and hugely successful during his spell at Stamford Bridge, being in regular contact with Chelsea owner Roman Abramovic and players in west London.
Benitez said: "In Spain, as in England, we have the same situation: we have a window for football, tactics and Swansea; there is another window for other issues.
"We talk about contracts and other things at the other window. This window is for football and tactics."
Benitez confirmed England left-back Ashley Cole has agreed a one-year contract extension at Chelsea, with the details still to be finalised on the deal which keeps him at the club beyond the end of the season. Benitez said: "Everything's agreed and the club will announce when everything is done."
Source: PA
Source: PA