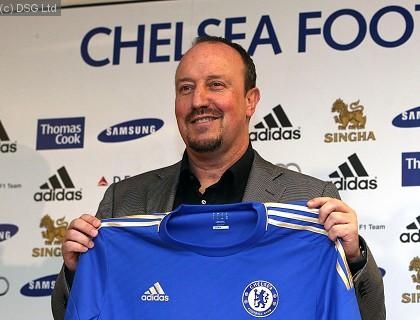 The former Liverpool boss was on Wednesday handed a contract until the end of the season after the unceremonious sacking of Roberto Di Matteo. The 52-year-old Benitez had previously said he would never take the Chelsea job in respect to former club Liverpool and had made digs at the west Londoners' fans.
Some sections of the Stamford Bridge faithful have not forgotten those remarks but Benitez has pledged to win over the naysayers. "I like to do things in the right way for the fans," he said. "They will be good for me."
Benitez has been handed the reins by Roman Abramovich after the Blues owner was seemingly thwarted in attempts to woo former Barcelona boss Pep Guardiola, the man said to be his number one target.
"The good thing about this is if I was a manager in a mid-table team, I don't think the fans would be happy," Benitez said. "A top side, what do they want? They want a top manager that can win trophies for them.
"We have something in common always managers and fans: we want to win every single game. Nobody wants to win more than the fans and the manager. I'm sure they will be happy with a manager that has this winning mentality, this passion for the game and a manager who will do everything he can to win games.
"That is my priority. I can understand that is not easy in the beginning. Someone can now have doubts but, in the end, I think they will be pleased."
Benitez's perceived attitude towards Chelsea fans remains a key issue, though, and is epitomised by comments made questioning their passion five years ago.
"I don't remember some of the comments," the Spaniard said. "But I will say, and I will be really honest, if I said this or that you have to analyse the context. We were playing against Chelsea, a top side, in the semi-finals of the Champions League.
"If I'm a fan, I would like to see my manager fighting for my team, my club and doing almost everything to win every game. So I don't see this as a lack of respect for the Chelsea fans. It's more a manager defending his team against another top side. I'm sure the fans here would like to see me doing the same now that I am here, defending their club."
Source: PA
Source: PA